Welcome to Welwyn St Mary's Primary School
Our school takes children from ages 4 to 11. It was originally built in 1940 as a Secondary School, so we are very fortunate to have a spacious building and grounds. In addition to large classrooms, we have a gym, two libraries, a separate dining hall, a main hall with stage and a music room.
 Each Key Stage has a large, well equipped playground. Our PTFA has, over the years, very kindly raised funds to provide play equipment for our pupils. There is also a playground dedicated to the use of Reception children only. We also have a large grassed area in KS2, an Outdoor Classroom, a Sports Field and a beautiful Nature Reserve.
Children in Reception classes have access to their own outdoor learning area:
There is capacity at our school to accommodate two classes for each year group. We have a strong tradition for success in the Arts and Sport and have specialist teachers in Music, French and P.E.
Aims and Vision
We have worked together to write our agreed Whole School Aims and Vision.
Teachers, teaching assistants, governors, parents and children all helped with their ideas about what we want for our school.
We are pleased with our final statements and will use them to guide us in the same direction as we work together.
Learning together for Life.
Our Vision Statement:
Welwyn St Mary's school sets a firm foundation for every child's future by developing a life long love of learning underpinned by Christian values.
Our Aims:
To provide the best learning experiences for all our pupils
To pursue excellence and enjoyment in all aspects of our life and work
To create a safe and caring environment where all pupils feel valued, secure and have a strong sense of self worth
To challenge and support our pupils' learning
To develop our pupils intellectually, spiritually and socially to their full potential
To foster creativity and innovation
To equip our children to be good citizens now and in the future
To enable our children to make healthy choices
To respect one another
To ensure equality of opportunity for all members of our community
To work in partnership with parents and families
To develop and maintain strong community links within our school, our village and the world beyond
Together, we can ensure that your child will benefit from an exciting and enriching education and will enjoy a successful and happy time at our school.
We look forward to working with you.
Religious Education and Collective Worship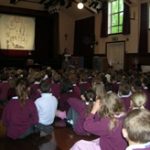 As a Church of England school, we encourage our pupils to develop an understanding of the message and meaning of Christianity. The Christian faith is therefore at the core of our R.E. scheme of work. However, we encourage and expect a tolerance and respect for all beliefs. At Key Stage One, the children learn about religious traditions by studying a variety of stories, celebrations and customs. In Key Stage Two, Christianity is studied alongside Judaism, Hinduism, Sikhism and Islam. All the children are encouraged to learn from religion about the importance of rules and values in our own lives.
collective worship.  We meet together at a daily assembly. These are centred on the Christian faith but other world religious traditions are recognised and accepted. We expect the children to develop sensitivity and understanding when exploring not just their own beliefs but those of others. Assemblies are an opportunity to explore and share things we value and to honour excellence. We sing hymns together, listen to music and give the children time to reflect and pray. We encourage positive moral and social attitudes and enable the children to develop a sense of wonder and an appreciation of the aesthetic and spiritual aspects of life.
Parents are encouraged to attend class assemblies in which their children are actively involved and their achievements shared and celebrated.
Church of England Voluntary Aided Status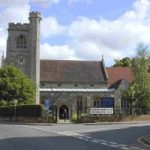 St Mary's Church Welwyn has strong links with the church of St Mary's in the village. This Christian foundation was established over 250 years ago by Dr Edward Young, Rector of Welwyn, who opened a school for 16 boys aged 7 to 14 in 1749. The school moved to London Road in 1859. Welwyn's population grew and, after the closure of the adjacent secondary school, the school moved to the current buildings which were extended and redesigned for primary use in 1985.
The Rector of Welwyn continues to keep in close contact with the school, taking assembly every week and an annual school Eucharist. The children attend St Mary's church for major festivals and visit it as part of the R.E. curriculum. Several school governors are church or diocesan representatives. Everyone in the school community is encouraged to share the love, trust and sense of fellowship that being in a church school can bring. Visit St Mary's Church Website.
School Prospectus
Click on the link below to download our school prospectus.