Green Group is an environmentally friendly club where children will put ideas down to help our school.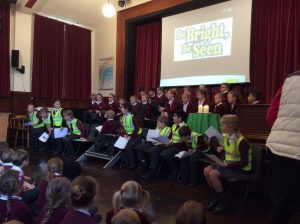 Some of our recent projects are:
Be Bright Be Seen campaign
Planting A New Tree
The Crisp packet Recycling Scheme
Our School Travel Passports
Be Bright Be Seen Campaign
During the BBBS (Be Bright Be Seen) campaign we were telling the children about road safety, and how to be seen when walking in the dark. We also ran a competition to see who could design a 'Be bright be seen' costume for our mascot, Sunshine. We also told the children to dress up in their normal clothing with an added piece of bright or fluorescent clothing. This was to show that we have to 'Be Bright and Be Seen to be Safe.'

Planting a New Tree
We recently cut down one tree in the KS1 playground because it was too big, and the roots could be dangerous to our school. So Green Group are going to plant a brand new tree.

Crisp Packet recycling Scheme
During the Crisp Packet Recycling Scheme we are collecting the children's crisp packets and then we drop them off at the nearest CPR drop off point. Once received by TerraCycle®, our crisp packets are sorted and separated by material composition. The separated items are then cleaned, shredded, and made into new recycled products. Everyone can participate in this scheme, schools, parents or just eager people wanting to recycle.
Our School Travel Passports
Our TP's are a great, fun way to encourage the children to walk to school. We will deliver a passport to each teacher. Every time a child or teacher walks to school they will earn a tick, if you complete the booklet, the class will achieve a treat.(Which could be going or out for extra play playing a game etc…) We think it is a great way be athletic while having fun and walking to school is good for the environment.