Welcome to Year 1
On this page you can find photos of our classroom and of the events in which we take part. You will also find links to our Termly Leaflets so you can see the sort of things we are learning.  We hope that you enjoy following our progress this year!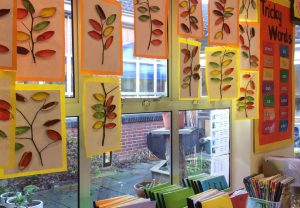 In RE this term we have been learning about the Gospel: the good news that Jesus brings.  We have been learning about friendship, peace and forgiveness, and reflecting on which of these is most important to us. We made a Gospel Tree to show our ideas.
Kathryn came in to talk to us about her voluntary work with the Hatfield Night Shelter. We heard about how Christians put their beliefs in to practice by caring for people who have no home.