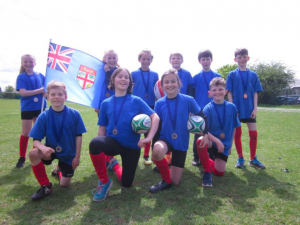 On Friday 12th May, Welwyn St Mary's sent a year 5 tag rugby team to the World Cup Tag Rugby Tournament at Stanborough Pavilion. There were 12 schools competing and it was organised by all the PE apprentices working at schools in the area.
The team was: Harry, Jesse, Lucy, Robyn, Poppy, Thomas, Jamie, Zach, Josie and Alfie. Our team was Fiji and we waved our Fijian flag with pride!
We played 6 matches and were undefeated until the semi-final where played Namibia (St Michael's Woolmer Green, who went on to win). Sadly they beat us and we then went on to play for the third place against Scotland (Harwood Hill) which we won. Every member of the team should be really proud of their hard work and commitment during each match. The children never gave up and their attack as well as defending was superb. Mr O'Neill l and I were very proud of their enthusiasm and sportsmanship as well.