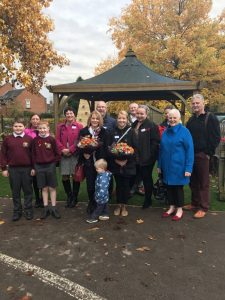 On Wednesday 6th November we opened our brand new Key Stage 1 playground officially. The playground, financed by a generous grant from Welwyn Hatfield Community Fund, together with money raised by the PTFA, School Fund and School Council, will provide much needed new outdoor learning and play facilities for children in Key Stage 1 and EYFS.
Jenny Wylie (PTFA Chair) and Evelyn Welch (Governor and School Fund representative) cut the ribbon to open the new playground officially. Also in attendance were Cllr. Terry Mitchinson, Stephanie Rogers (Wicksteed – providers of the play equipment) and Cherie, Emily and Chris from Welwyn Hatfield Community Fund.
All our younger children will benefit from this installation and their fitness will improve. We are extremely grateful to all those who made this possible.