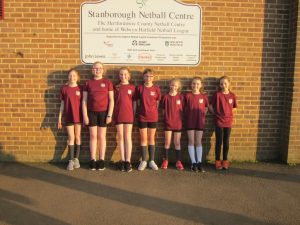 On Wednesday 27th February, Welwyn St Mary's played some friendly netball fixtures at Stanborough School.  In the team was Scarlett, Sally, Emma (C), Alice, Erin, Imogen, Lilly and Sophia.
It was a beautiful sunny afternoon and the girls played so well.  They had improved and worked hard to develop their skills since our last matches and this was evident in our first victory against Oaklands.  The girls then went on to play against St John's Digswell, again winning 3-2.  Our last match was against the reigning champions Brookmans Park.  We unfortunately lost this game, but we did show determination and resilience throughout the match.
Well done to all the students who worked well as a team and showed their versatility in different playing positions  as well as good sportsmanship.