We are very fortunate to have among our members of staff a certain Miss Lola Harvey. She is a very special member of the team and the reason for this is…she is a dog!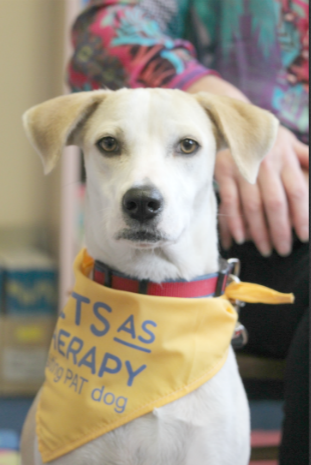 Lola is a Reading Dog and a fully qualified PAT dog who has undergone specialist training to be able to work with children in schools and with patients in hospital.
She has not spent all her life in leafy Hertfordshire though. She was born in the far away island of Mauritius where she lived on a beach as a stray and struggled to find food.
Lola's guardian angel was her current owner who saw her, from her hotel window, being treated very badly by a local man. The lady, who was on holiday, went out onto the beach and rescued Lola from her sad life. She arranged for her to fly all the way to England and has given her a home and training to be a PAT dog.
Lola has repaid her new owner by passing all her training tests with scores of 100% and by being a kind and gentle helper to the children of our school. We are very lucky to have her.
If you would like to know a little bit more about Reading Dogs and the PAT (Pets As Therapy) scheme, please have a look at their website here: